Build a high performance brand. Take the 30-day challenge
Want to build a successful personal brand…
but have no idea where to start?
Get 
brand fit

 and become a woman of confidence!
This 30-day challenge is about nailing your Brand Basics, and developing the confidence to elevate your career by fully representing brand YOU!
Over 30 days I'll take you through my methodology for building a powerful personal brand that amplifies your influence and impact.
You'll get my step-by-step guidance to create confidence and a growth mindset, and establish your personal brand using my 9-Step Brand Success Formula.
At the end of the challenge, you'll walk away with absolute clarity over how you represent yourself professionally, both in person and online.
Most importantly, you'll walk away with the confidence to step into the spotlight as a leader in your field.
What's Included?
Each week you'll receive highly actionable activities that harness the secrets of PR, psychology and influence to help you craft your brand.
Suzie uses these 'secrets' with her 1:1 clients to help them build unstoppable personal brands that amplify their impact and income!
Week 1: Step Into Your Confidence
All successful leaders have one thing in common: a growth mindset.
This week is about developing the confidence and mindset you need to stop holding yourself back and claim your place as a leader in your field.
Create new success rituals
Gain clarity around your big 'picture'
Develop the growth mindset needed to level-up your career
Identify the blocks and challenges that hold you back
Create a rock-solid strategy to avoid self sabotage
Week 2: Be Seen – Clarity & Purpose
It only takes a few seconds for others to categorise you as someone to remember or someone to forget.
Who are you? What do you stand for? How do you want others to perceive you?
Defining these is the first step to positively influencing how to:
Identify your core values and beliefs
Create your band persona (Suzie's Brand Archetype worksheet will help you)
Build your memorable and authentic backstory
Know your niche and what's important to them
Craft your solution-focused value proposition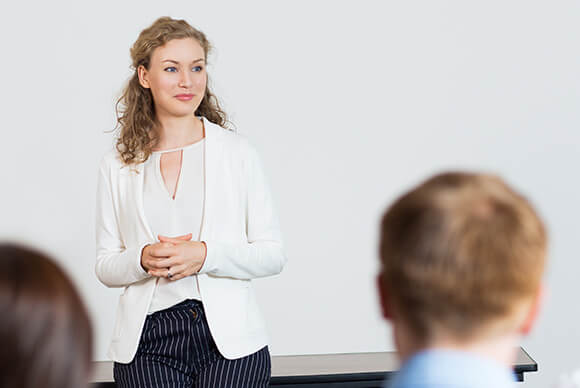 Week 3: Be Heard – Find Your Voice
Now you're clear on your Brand Values + Story, it's time to develop your communication strategy.
Suzie will show you the secret components of bullet-proof communication that gets you heard by people you want to impress!
Craft your leadership voice
Create your own original thought leadership insights
Build your bio and stand-out visual brand
Set your strategy for positioning and establishing your authority
Incorporate the 6 components of a perfect pitch into an unforgettable message
Week 4: Be Noticed – Bringing It All Together
If you don't have an online presence, you may as well be invisible!
This week is about establishing a digital footprint with the foundations of your new personal brand. Don't worry if you're not tech-savvy – Suzie will walk you through!
Choose your online platforms and setup your accounts
Configure your online channels with your brand voice + story
Create your visual brand assets (no graphic designer needed!)
Set your thought leadership communication schedule
Build your network the right way (avoiding the mistakes most people make)
BONUS STYLE GUIDE!
Plus complete your own personal brand ID style guide and in just 30 days you'll have set the foundations of a powerful personal brand you can profit from. Each week you'll receive worksheets and tools to help you.
Hi There, It's Suzie!
If you want more recognition and authority but are worried about putting yourself out there… you're not alone.
Hi, I'm Suzie Lightfoot, founder of Woman of Confidence.
After helping hundreds of fabulous women elevate their personal brand presence, I've noticed THREE areas that hold them back from the success they deserve…
A CLEAR VISION, A GROWTH MINDSET AND CONFIDENCE!
I know firsthand how it feels!
Even as a high-performance woman in business, there have been times when I struggled to stay motivated and inspired. It's during these times that I can start losing direction, focus and question my value and worth!
This is the time to STOP, breathe and take control!
Do something that will elevate your thought, test your passion and get you back on track to success as the confident kickass leader you know you can be!
Let me share with you my success rituals and real-life strategies for getting the bulletproof confidence and clarity to become an unstoppable leader and influencer in your field.
"Before starting my own business, I had worked with personal brand consultants all over the world… I can definitely say that Suzie is the BEST of all!!"
Suzie helps you remember who you are and reminds you what you can accomplish with your passion and talents. She understands you, empowers you and gives you a 'to the point' strategy to open your mind and bring you to an 'Aha moment! I love you Suzie, thanks for who you are and what you stand for in this world. I am with you!
Irem Sefa YayimlarBrandyMe (Istanbul)
"Suzie's Branding programme helped me navigate my way to feel more empowered, confident and self-assured."
Her programs unique delivery and style is very motivating, inspiring and ultimately brought out the best in me, helping me become more self-aware and readier to grow and achieve more. I recommend it to anyone who aims to be their best every day!
Erica GeorgisSenior Interior Architect
"A unique blend of professionalism, elegance and fun, Suzie shined a light on the positives for my personal branding, image and executive presence!" Suzie's branding program helped me to have the confidence to take my insurance brokerage to the next level. Suzie is extremely thorough, and I quickly gained an insight into my business and my passions. Suzie helped me gain the confidence to be seen, be heard, be noticed. I highly recommend Suzie's Personal Branding Program and as a coach to anyone wanting to create or improve their personal brand and business!
Suellen GreivesDirector Covermax Insurance
"My confidence has improved working with Suzie, and I am looking forward to a bright future ahead. Thanks, Suzie!"
I was inspired to unlock 'brand Kate Osborne!' with Suzie's program to develop an empowering and authentic personal brand both online and off! I was very nervous about putting myself 'out there', but Suzie's process is fluid and fun, leading me to gain greater clarity about my vision, passion, greater purpose and what is truly important to me and my personal brand.
"Suzie helped bring the new version of me into creation in a very meaningful and aligned way."
Completing Suzie's program and working with Suzie is such a wonderful experience! Suzie has the unique ability to dive deep & quickly discover your passion, goals & dreams (even when you still aren't totally clear of them yourself!).
Suzie program really accelerated the whole process of transforming my personal brand to better reflect who I am today, what I believe and what I truly stand for!
"Suzie is masterful, thought provoking, dedicated. Through Suzie's branding program, I was able to explore my passion, develop my brand purpose…"
Through Suzie's branding program, I was able to explore my passion, develop my brand purpose, develop my visual brand style guide and have the confidence to resign from a 23yr career to launch my own business, The FemeTech Revolution!
"Wow! I didn't realise how much I would learn! Suzie's 30-Day Brand Fit Challenge is totally unique, empowering and completely on-point! "
Having previously worked with Suzie as my brand coach to build my brand and business, it was great to now do her online course to refresh my key brand messages, reconnect with my purpose and vision, and to remind me of the importance of always keeping my brand relevant and staying connected to my 'WHY'.
"Suzie's program has challenged my thinking and empowered me to be vulnerable so that I can dig deep and expose my true personal brand. "
Suzie has a vision and direction for my personal brand and messaging that I would not have been able to access without her skills.
All it takes is an hour a day to get Brand Fit!
These days, a strong personal brand is not a 'nice to have'… it's a MUST for high performing women who are serious about advancing their careers.
In this intensive challenge, you'll establish the foundations for your personal brand…
and gain the confidence to go for it!
The 30-Day Challenge is the closest thing to
having Suzie as your Personal Brand Coach!
If you're a woman who wants to be seen, be heard and be noticed for who you are and the value you bring to the table, then you must invest in the best project you'll ever work on – YOU!
The foundational work you'll do is something Suzie's clients pay thousands for!
You'll be walked through the exact framework Suzie takes her clients when she helps them lay the foundations of their new personal brand.
This is the only way to get to Suzie's guidance without spending thousands!
IN 30 DAYS, YOU WILL BE WALKED THROUGH THE STEPS TO ELEVATE YOUR: