New flash!  Social media is not just for the new gen!  Us oldies still have enough left in the tank to make a positive impact by building thriving personal brands online and finding our voice in the bigger conversations.  Here's how!
Social media is one the biggest and best tools for sharing your story, growing an authentic personal brand, and marketing you and your business or services. Yet unfortunately, most top female executives, mature age professionals, or business owners are missing out on massive opportunities by hesitating to be seen, be heard and be noticed on these online social media platforms.
And I totally get it!  It's no secret that today's media has glamorized "dewy, youthful skin" and "fresh-faced 20-somethings" as the epitome of female success and influence!  As mature women of worth, how do we build our personal brands online and position ourselves with greater impact and influence on online social media platforms that are dominated by young social influencers?
One thing's for sure; you don't have to be dancing on TikTok, sticking your tongue out in photos or going viral to make your mark and grow your brand identity and professional or business reputation.  
Leave this to the 'youngins' (and don't cave to the pressure) because if you're over 50 like me, you will have a wealth of wisdom, stories, triumphs, challenges and even some massive #failures to be proud of and share with the world! 
Want To Dim Your Lights?  No way! Build Your Personal Brand With Confidence On Social Media!
Mature women have a wealth of knowledge, experience, and wisdom to share. With so much to say and pass on, we SHOULD be THRIVING on these platforms!
One of the biggest things we can struggle with as women in business (at any age) is putting ourselves out there on social media!  But as we mature, we can also experience a feeling of "irrelevance and disconnection" as we wonder how to navigate the fast-evolving face of social media successfully to grow our brands and business.  It can leave most 40-something professionals retreating to the shadows rather than claiming their 'space' and owning it.
If you're committed to growing your personal brand and business, learning to navigate social media is a must. It's the perfect channel to build your brand, show the world who you are and what your brand is all about.
If you're a newbie to creating a commercial identity, public profile and personal brand online, then the first place to start is by connecting and reconnecting! You have a wealth of connections at your fingertips so look for people who have a voice in your industry, who have influence  and who you want to hang out with!  
One of the best things about 'growing up' is we have a deeper understanding of who we are, what we stand for and what matters to us. So reach out to connect with other people, businesses, brands and networks that share your values, visions and passions!
Please do your research and connect with followers, colleagues, stakeholders, key people of influence in your niche, and even young female leaders who are making their mark in the world. 
Share your story, provide reliable and valuable content, engage and start conversations.  Your wisdom, insights, and ideas are worth something (and add to your personal brand value).  Raid your connection bank you've spent years building, and reach out. It's also a fantastic way to find like-minded women to support your professional and personal growth.
Don't be intimidated by the Gen-Z and millennial crowd because, truthfully, most  enjoy and appreciate learning to navigate the pitfalls of life as much as the rest of us! They know that advice and lessons from professionals  who've been in their shoes, and who have grown their  authority in their industry are worth more than anything they could learn inside the lecture halls.
You Don't Have To Be On Every Social Media Platform, Just The Ones That You Like To Hang Out On.
While bloggers and social media influencers cash-in by being seen everywhere on the internet, you only have to be visible where you want to be.  Personally TikTok is not for me, so you'll never see me there.
But I do enjoy hanging out on Instagram, sharing snaps and stories of my life, personal brand journey and my business and following others.  I am a visual person so the images and the impact of the visual feed appeals to me. 
 
I know my followers come to find value in my content there. Being on social media allows me to interact and engage with my followers instantly and give them a "behind-the-scenes" look at my personal brand.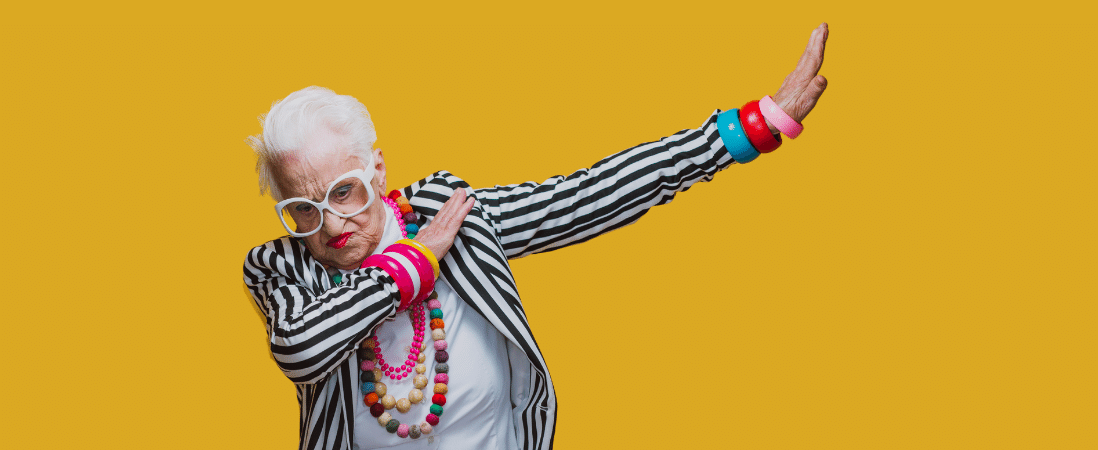 How to Flourish on Instagram as a Mature Woman in Leadership
More than 50% of Instagram users are 35 years old and below… but don't let this deter you! There are OVER 1 BILLION people on this platform across the globe. That's A LOT of people waiting for you to connect with and get to know. You only need to find a fraction of those people that will relate to, care for, support, and engage with your personal brand and business.
 
With research, practice, and a few digital marketing tips, you can tailor your strategy and content to reach and resonate with the right audience. It's a simple, low-cost, and effective way to push your brand out there. 
 
BONUS TIP: Instagram's algorithm pushes content that consistently receives engagement from its users. Create a visually stunning brand identity using your logo, photos, and brand colors to carve out your own space. Produce content that starts conversations, asks questions, and invites your audience to participate.
Similarly, you don't have to feel pressured to be on Instagram AND Facebook if that's not your vibe. The most important thing when building an authentic personal brand, is YOU DO YOU!
Just Like In Real Life, You Need To Set Healthy Boundaries To Protect Your Personal Brand And Don't Be Afraid To Block!
One of the reasons social media can be a bit daunting for us as mature women is the amount of negativity some people (especially those hiding behind anonymous accounts) love to dish out.
Case in point: I was chatting with a woman at the gym when she told me how she uploaded a video of her in her gym kit on her professional account. What should have been a fun fitness moment turned sour when someone criticized her for having posted said video when she's a woman of "a certain age."
We all know these things happen and as mature age women we can feel marginalised and take it to heart! And that's NOT okay! Remember: you are being YOUR REAL, AUTHENTIC SELF. What people comment on and say about you online in social feeds says more about them than about you. Be confident and don't let other people's negativity hold you back or affect your brand and business. !Having a fit and active image is not a bad thing!
So my advice? BLOCK. And then MOVE ON. 
Younger women often are hesitant to block trolls or followers due to peer pressure or they don't want people to know they screen their accounts. But as we mature, our lens shifts and we don't care so much about what other people think! So go ahead and be selective about who you hang out with offline and online in order to build more meaningful, positive and genuine connections. 
Don't waste your time on people that have nothing of value to share and just spend their time sucking the life and energy out of other peoples' feeds!


Highlight Your Life, Your Ideas, and Your Purpose To Build An Authentic Brand That Matters
Social media elevates your personal brand into a way of life. It's another channel for you to authentically share your knowledge as a female leader, business woman or thought leader.
Practicing your leadership and sharing your knowledge and messages freely on social media with your target audience will help you develop a consistent online brand presence, be "known for something" and grow your brand awareness. 
Shift from just scrolling your feeds and being an observer of others' lives, careers, or businesses to a passionate contributor, story teller, inspirational leader, and teacher. It's a simple way to start to grow your personal brand, leadership status and influence while helping you hone your brand messaging and see what resonates with your target market.
Find people who genuinely connect with your passions and energy and who share similar lifestyles and viewpoints. You might just find the people who will support your personal development, grow your business, mentor, guide, and inspire you.
Become a Social Media Maven and a Tech Savvy Businesswoman! Let's Craft a Social Media Strategy to Amplify Your Personal Brand and Develop Your Marketing Skills
Work with me and learn tips and techniques I personally use to turn my social media followers into potential leads and partners. Navigate the digital world with ease as an empowered, experienced, woman of confidence!
Want to receive exclusive updates and free resources? Sign up for my Woman of Confidence Member's Club to learn more about being an unstoppable female leader.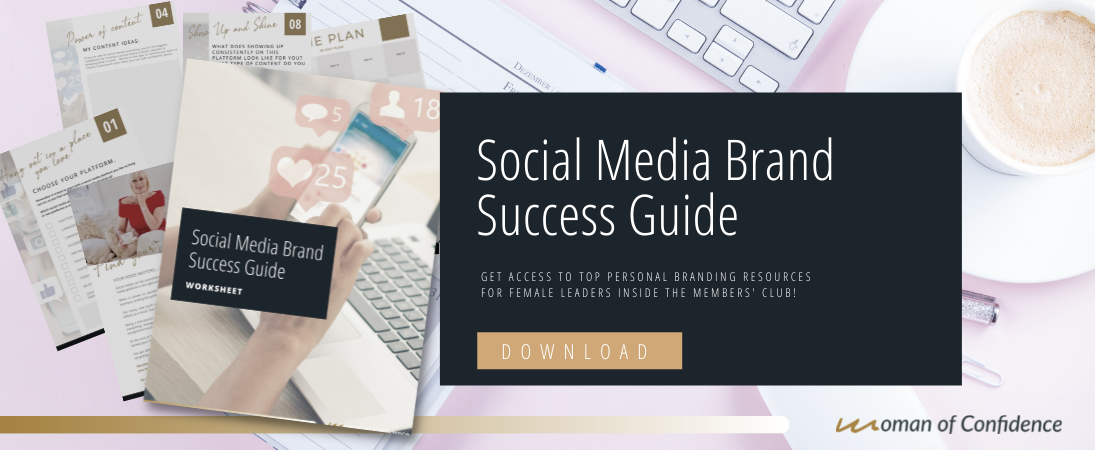 Login>> to Woman of Confidence Members' Club now to develop a strong personal brand that will help you achieve your goals!
Not a member? Join NOW>>  to get access my complete knowledge bank of personal branding resources and leadership tools.

To your success,